More Putter, Less Flutter. Rx:Rest!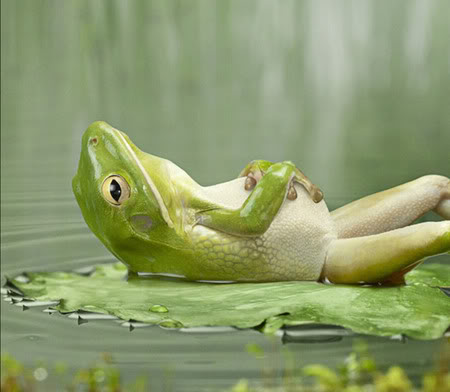 Push yourself. Go Harder. Don't waste time. Accomplish more! Hurry up!
These are excellent mantras for motivation if you find yourself in a lull. But most often, you probably find yourself overdoing it on many levels—work, family and even fun. Unfortunately, this all-consuming, overtaxing, over accomplishing determination mindset to do MORE can harm your body.
I am a magnet for movement. Years ago, my mom would tell me (as a young child) to slow down because I was juggling a hundred things at once. I just didn't like sitting down to relax. I liked being busy. I liked moving—fluttering—from one project/activity to the next. (Does this sound like YOU?) I craved exploring new ideas and putting them into action. I was always good at multi-exploring and multi-tasking. But was it good for ME?
To this day, I still have "a lot going on", as many friends and acquaintances have so kindly reminded me. But, I discovered something along the way. (A tad of wisdom here…) Too much movement can "break" you not "make" you. Overdoing, overusing, overindulgence, overreacting, overeating, over-the-top of ANYTHING means you are NOT in balance. This is a no-no if you truly want to be healthier.
I have traveled to many countries where their (time) clock seems like its in "slow motion". The hustle and bustle we, living in the Western culture, know well, is not a reality in other cultures. They embrace and savor each moment of the day. Their pace at accomplishing things is slower, even, consistent and deliberate. They are still motivated. They are still goal driven. But the stride at which they operate is a far cry from ours. I think they have a well kept secret!
The secret is: YOU are the one doing the pushing! Let me repeat, YOU are the one pushing yourself! You rush and hurry yourself sometimes so fast that the roses you intended to smell have bloomed and died. The secret is to slow down, putter around, lay around, take a break, enjoy a siesta or short nap from your daily routine. Set aside time to meditate. Or simply, take a good long rest. Yes, REST. (Your to-do list will still be there tomorrow!)
Your body needs rest to allow your healthy cells to regenerate and grow. New growth of healthy cells is vital to building your immunity and boosting your energy. Many of us think we can outsmart our own body and pack our days so full of activities fulfilling commitments and promises that we end up feeling drained, both physically and emotionally. When your body is feeling tired, you have already overdone it! This is why sometimes doing NOTHING, can bring you everything—amazing, vibrant, health! Add REST to your bucket list (yep, do THIS one!)
So why is slowing down important? Not only does your physical body need a hiatus, but your mind does as well. Your mind needs quiet time, or at least, relaxing time. The most creative ideas arise when we are calm, quiet(er) and more restful. Why? Because your brain isn't clogged with mindless chatter. Having quiet time allows your cerebrum and cerebellum to form new ideas from a conglomeration of knowledge and experiences you have processed. That "ah ha" moment most often arises in stillness. That is one reason the practice of meditation can help you disengage from the milieu of messages, distractions and sensory information your mind is working hard to constantly process.
So incorporate some PUTTER on purpose into your day or week. It will do your body good.  Now, excuse me please, but I need to chill for a bit 🙂