The Shake Out of Nutritional Shakes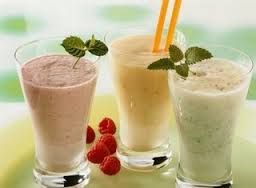 Probably many of us have all tried a "nutritional shake" in the past year. At least we were told it was nutritional, right? As a wellness passionista, many, many people have asked me to support/endorse  their "nutritional" products (shakes, energy drinks, protein supplements, weight loss products) in the past year. I have turned them all down. Let me explain.
First, many of these nutritional products sold are through MLM (multi level marketing) groups. This popular way of marketing products takes off from the old "Pyramid scheme" marketing of 15-20 years ago. However, today with the use of the internet, marketing products this way has become the newest "IN" thing. Times have changed and so has their marketing. These products can sometimes be expensive especially when some companies encourage you to opt in to "auto renewal" which constantly provides you with product and them with a nice annuity. While I am not personally interested in buying or selling products this way, I know it has become a very useful way of reaching their audience and targeting sales. Kudos to them.
Second, I have examined many of the product ingredients offered by many, many companies and their sales staff and their affliates.  I have taste tested over 25 different brands of nutritional shakes.  Here are my candid thoughts: I have not yet experienced one which I really thought was tasty..most tasted tolerable at best. The majority of the shakes are thick and gooey and hard to clean off your glass/blender (what does THAT say about what its made of?)  Can some of these products be healthy? Yes, perhaps, healthy enough. But have you taken time to read the product ingredient labels? What is really inside that shake or energy drink? My longstanding mantra is: if you can't understand or comprehend the product ingredients, its probably not so good for you. Best bet: Eat REAL Food. Let me repeat, if you want to optimize your health, EAT REAL FOOD. Eat CLOSE to the earth !
Now many people will swear by these products. They contest that these products have helped them lose weight, build lean muscle mass, provided nutrition on-the-go, replaced minerals loss from heavy/intense workouts and more. Maybe so in some cases, but maybe not so. Are our workouts THAT intense that we need to supplement ourselves with a man made concoction to replenish and re-energize or are we just replenishing and re-energizing MLM profits because we are swooned by their marketing and feel we can't do better with good, old fashioned real food? How many of the consumers of these products maintain health (balanced weight, optimized blood sugar level, high energy, good muscular composition, low fat, etc) AFTER they stop consuming the product? Must they consume the product FOREVER to optimize health? Something is  screaming "gimmick" here.
Hey, I'm all in favor of using technology to create healthy, safe, nutritional options but the real concern is what exactly happens to the integrity of the REAL food ingredients in order to create this convenience product? What's really behind the ingredient and marketing scenes of these products/companies? Most of the products I have tasted don't' taste like REAL food. They taste chalky, thick, acidic, or tinny.  Do we trust our taste buds here? Certain products claiming to be nutritional or energy enhancing are ridden with artificial ingredients..even creatine, which can ONLY be naturally made by your own body. Hhhmmmm…why would you want to put FAKE creatine through your body, your liver, kidneys and lymphatic system every single day? Is that extra muscle mass worth potential liver failure. Nope, not for me.
I do know that some companies have worked hard at creating a healthy product for "the masses". Yes, the masses. Thats how they make money. By selling to the masses. But, YOUR body is not necessarily part of the "masses". Your physical body, your ability to digest, break down and absorb what you consume may be very different than that of your neighbor. So why do you feel compelled to purchase the newest shake or energy drink ? Because of a 21 or 30 day challenge? Because of a money back guarantee? Because you can post a "before" and "after" picture? Because all of your friends are trying it and you don't want to be the "stand alone"? Because you are just too darn busy to throw some real fruits and veggies into a blender, push "Blend" and wait 30 seconds? Think long and hard about WHY you are choosing what you are choosing.
I have yet to discover a shake or pre/after-workout drink which is totally organic, natural, and tastes good. And I have experienced many just to say I have "tried it". Phooey. I say, eat REAL food. Its from the earth. It has been growing here for many years. Its not created in a laboratory. There is no FDA approval required. Eat organic whenever possible. Eat the foods which soil, sunlight, water and TLC (tender loving care) have produced. Thats the very best your body deserves. So the next time you are captivated by another protein/nutritional/energy shake ad, take those REAL veggies and fruits out of your refrig and toss some in your blender with water, organic juice or almond milk for a wholesome REAL smoothie from our REAL Mother earth. She'll thank you for it in a much healthier YOU!