Mind Talk: Positive Thoughts Keep You Healthy!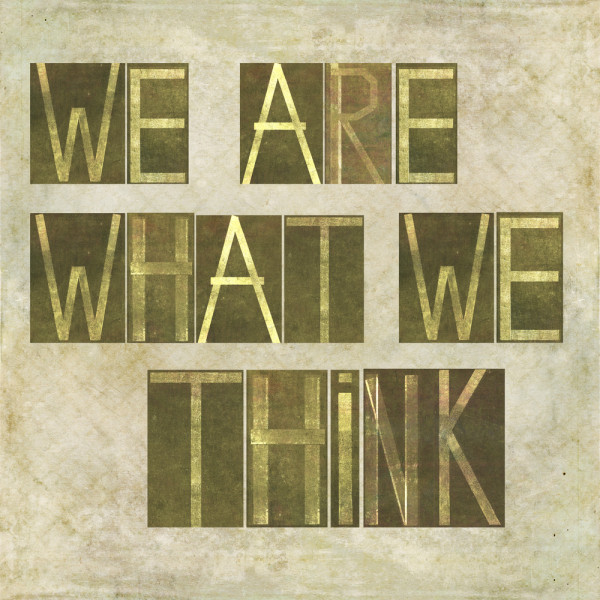 One of my favorite mantra's is, "You believe what you tell yourself, so tell yourself something GOOD!"  We spend a great deal of time thinking thoughts. And while many of these thoughts encompass experiences of "the moment", we often have reflective thoughts about ourselves. Thoughts such as, "I bombed that last sales call." Or "I nailed that presentation this morning." Or "I am tired, and feel fat." Or, "I look really  sexy tonight!"
These self identifying thoughts are the ones which can cause the most  good OR the most harm. Why? Because they create a repetitive neural network among your brain synapses. These same thoughts (positive or negative) create a chain of neural firings, which, in turn, cause a myriad of biochemical reactions in your body. And these biochemical reactions move your moods and emotions toward FEELING good or FEELING lousy and depressed.
Each and every cell in your body is biochemically responding to every emotion, sensation and feeling you have. When cells constantly receive negative input (self talk), they produce stress chemicals, such as cortisol and norepinephrine which do your body harm.   So even when you are nervous or frightened, there is some merit in telling yourself, "It will all be okay." Or. "I can do/handle this situation." Those powerful words give you a biochemical boost of strength which is matched by Popeye!
Please join my guest collaborator, Dr. Sarah Schewitz, who has many actionable ideas for using positive affirmations to improve your life and your HEALTH!
The Power of Positive Affirmations by Sarah Schewitz
Be careful what you say to yourself because you are listening. It is estimated the average person has between 12,000-50,000 thoughts per day and between 70-80% of those thoughts are negative. Shocked? Start tracking the way you think for a day and see if it holds true for you. How many times per day do you find yourself saying, "I don't want" or "I can't" or "if only" or "no"?
For many of us, it is much more natural to focus on what we don't want as opposed to what we DO want. However, we've got it all wrong because what we focus on is usually what comes into existence. If we are constantly thinking about what could go wrong, we are much more likely to act as if that is the expected outcome and sway the circumstances to produce that outcome. Our thoughts become a self-fulfilling prophecy. Our ego likes to know what is going on at all times so even if the negative outcome is not pleasant, it is comfortable because it is what you expected.
It is human nature to take the path of least resistance and to do what is comfortable. However, growth happens outside of our comfort zone so if you want extraordinary results in your life, you need to get comfortable being uncomfortable. One way to start that process is by fighting your mind's natural tendency to think negatively and consciously decide to think more positively. A great place to start is by changing the way you think about and talk to yourself.
Your 1st instinct might be to start setting goals and coming up with a plan for accomplishing them so that you can feel good about yourself. While setting and accomplishing goals is important, instead of focusing on what you want or are going to do, focus on who you need to be to accomplish your goals. What characteristics do you need to embody? What kind of person would have the career, income, possessions, relationships, family, and friends, you want to have?  Are they organized? Dependable? Driven? Motivated? Genuine? Loving? Compassionate? In what areas are you lacking? Choose 3-5 characteristics you feel are necessary for you to embody to have everything you have ever dreamed of but you aren't quite there yet. These are your affirmations. Write them down as if you already have them and repeat to yourself out loud in the mirror daily. For example,
 I AM A FUN, FREE, FEARLESS, WOMAN
I AM A LOVING, COMPASSIONATE, LOYAL HUSBAND
I AM A POWERFUL, DRIVEN, RELENTLESS LEADER AND I AM MORE THAN ENOUGH
Though it may seem silly at first, you will find that if you are consistent over time, you will start to transform into the very things you speak. The phrase "fake it till you make it" holds true here and is backed up by scientific studies showing that our brain chemistry actually changes when we change the way we think. As a result of repeating your affirmations daily, your focus will gradually shift and you will start creating circumstances in which your affirmations are true. Positive affirmations are a life-long practice so as you start to become the person you want to be, you can re-write your affirmations to address new areas for growth.
Dr. Sarah Schewitz
Sarah Schewitz, Psy.D. completed her doctorate in psychology in 2011 and practiced psychology for 2 years while simultaneously finding her second passion as an entrepreneur and health coach with the nutrition company Herbalife. She has now combined her passion for health and personal growth and started her own healthy life coaching business. She believes that good health is 80% nutrition, 20% fitness, and 100% mindset . To get you started on your journey to tip top HEALTH, she offers a free 30 minute wellness consultation to review goals and objectives. You may contact Dr. Schewitz at drsarahschewitz@gmail.com or connect with her on Facebook and Twitter:
https://twitter.com/Coach_Shevy